Lifestyle
How to cook a complete pasta meal in one pan – Times of India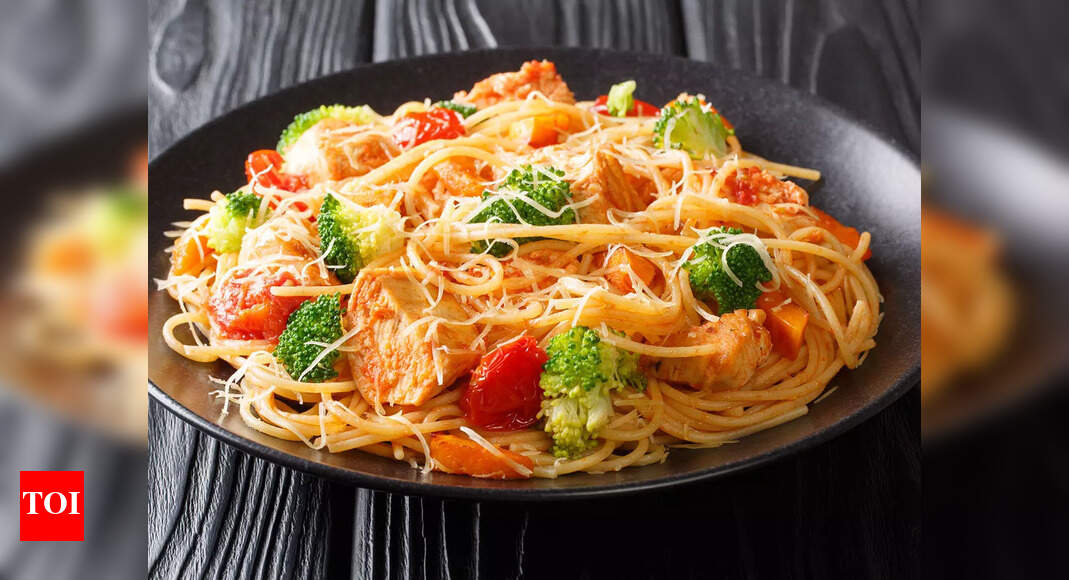 Be it a lunch or dinner, it's a constant struggle to make some delicious food. Well, pasta is one of the ultimate comfort foods in the whole world and can never disappoint when eating with friends & family. It is one of the staple foods of Italian cuisine and is loved by people of all generations. Most of the time when making pasta, it is a pain for many as pasta needs to be boiled first and then drained while the veggies are getting sauteed in a pan. But, how about a pasta meal that can be made in one pan? Here is all you need to make this one-pan pasta meal easily at home.
Ingredients required

450 gms spaghetti pasta

1/4 cup extra virgin olive oil

1/4 cup onion (diced)
1/2 cup shallot (diced)

4 garlic cloves (chopped)

450 gms chicken breast (cut into bite-sized strips)

2 cherry tomatoes (diced)

1/2 cup broccoli (cut into florets)

1/4 cup mushrooms (diced)

1/2 handful baby spinach

4-5 asparagus (halved)

1/2 tsp lemon zest

2 tbsp white wine

1/2 cup parmesan cheese (grated)

1 tbsp parsley (chopped)

1 tbsp basil (chopped)

Salt to taste

Black Pepper to taste
Here's how to make One-pan pasta

To make this pasta, bring a large pot of water to a boil over medium flame. Add about 1 tbsp of salt per 4 cups of water. Once the saltwater is boiling rapidly, add the spaghetti pasta to it. Cook it for about 5-7 minutes.
Once done, turn off the flame and reserve half to 1 cup of pasta water, then quickly drain the pasta.
Now, in the same pan, heat some oil and add chopped garlic, shallot and onion in it. Stir well and cook until translucent.
Next, add in the lemon zest and before it caramelizes, add the white wine in it. Cook for a minute.
Now, add chicken breast and sprinkle some salt in the pan. Stir well and sauté until caramelized and cook the chicken for 10 minutes.
Then, add all the veggies with a pinch of salt and black pepper. Stir well and cook for 2-3 minutes.
Finally, add in the pasta along with reserved water until the pasta is cooked completely.
Drizzle on a little more olive oil to keep the noodles slippery so they don't stick together and sprinkle the remaining lemon zest on top.
Throw the grated cheese on top and garnish with parsley and basil. Use some tongs and serve immediately. Enjoy!
For scrumptious recipes, videos, and exciting food news, subscribe to our free
Daily and
Weekly Newsletters
Source link