Sports
Exclusive – IPL 2022: Gautam Gambhir hugged me and said 'well played', thankful to him and KL Rahul for backing me, says new IPL sensation Ayush Badoni | Cricket News – Times of India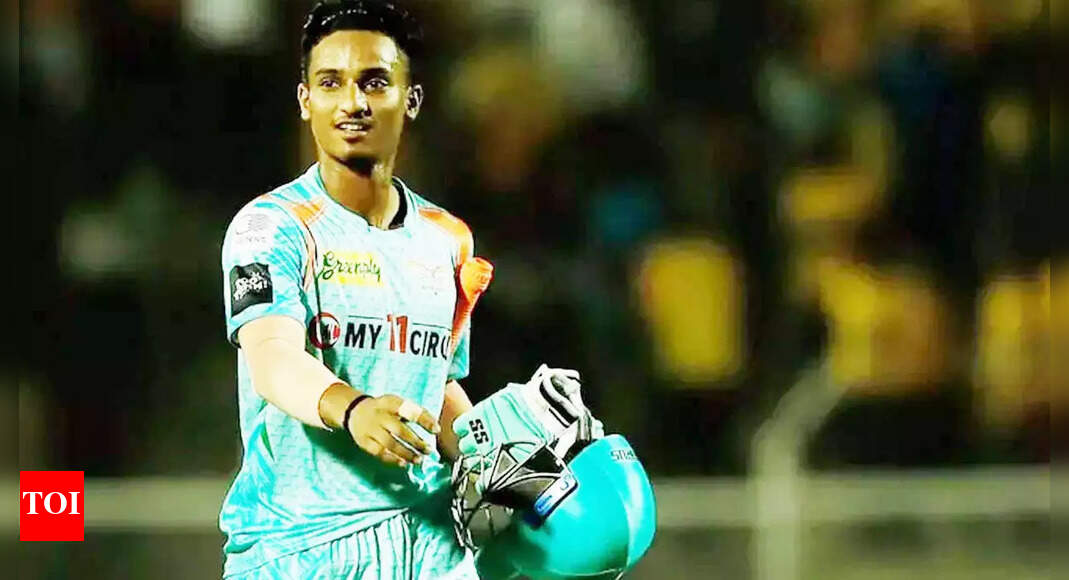 NEW DELHI:
Ayush Badoni
was batting in the nets and played a superb innovative sweep shot, reminiscent of South Africa legend
AB de Villiers
.
Lucknow Super Giants
captain
KL Rahul
was watching Badoni from a distance. After Badoni played the shot to send the ball over the ropes, KL walked up to him and applauded him, and asked him which cricketer he admires the most. The 22-year-old Badoni said – AB de Villiers.
The next day, when the Lucknow Super Giants, who lost their first ever IPL match against the Gujarat Titans, faced defending champions Chennai Super Kings and found themselves in a tough spot, Badoni played a calm and composed cameo to take his team home.
Badoni was batting on 5 off 4 balls when he moved across the line and scooped Shivam Dube for a six over deep backward leg. Captain KL had a huge smile on his face watching this young lad from the dugout. Badoni had played out a replay of the shot he played during the net session earlier.
𝗪𝗛𝗔𝗧. 𝗔. 𝗪𝗜𝗡! 👌 👌A mighty batting performance from @LucknowIPL to seal their maiden IPL victory. 👏 👏 #TATAIPL |… https://t.co/bYguIpTDOO

— IndianPremierLeague (@IPL) 1648750991000
Badoni (19 off 9 balls) played his role to perfection in the company of Evin Lewis who scored a majestic 55 off 23 balls to power LSG to a six-wicket win to give Lucknow their maiden IPL match win.
When Badoni hit the final six of the match to tie the scores, the Lucknow franchise mentor Gautam Gambhir was seen jumping up and celebrating in the dugout in scenes that went viral on social media.
The 22-year-old Badoni who is the latest young cricketer to grab headlines via his exploits in the IPL played a brilliant knock in his very first IPL match in Lucknow's first match of the season vs Gujarat Titans. Badoni, coming in at number 6 smashed a 41-ball 54, with 4 fours and 3 sixes. He became the first to notch up a fifty plus score on IPL debut, batting at number 6. Lucknow lost that match, but people sat up and noticed Badoni, who has the ability to play shots around the wicket, just like his idol, AB de Villiers.
Incredibly Badoni, for years, was not selected in the senior teams by his state side – Delhi. He also went for the trials of multiple IPL teams and did well, but was not picked up. For a long time Badonis name has done the rounds as the next big thing from Delhi cricket after Rishabh Pant. He has been prolific in junior level cricket over the years. Ayush Badoni (PTI Photo)
Badoni is a ward of the late Delhi cricket coach Tarak Sinha, who also coached the likes of Shikhar Dhawan, Anjum Chopra and Rishabh Pant.
Things changed for Badoni once Gautam Gambhir noticed him and realised he has the ability to play on the big stage. Gambhir who is the mentor of the Lucknow Super Giants was at the last player auction when the franchise bid for Badoni and picked him up for his base price of Rs 20 lakh. It was heartening to see the franchise back Badoni and include him in the playing XI right from the word go. And he has been repaying the faith shown in him ever since.
After Lucknow notched up their first win in the IPL, Badoni spoke to TimesofIndia.com as part of an exclusive interview.
Badoni, who credits his IPL career to Gambhir, spoke to TimesofIndia.com about not getting opportunities earlier, the IPL platform, the nickname Baby AB, Gautam Gambhir's role in his career so far, playing in crunch situations, KL Rahul's support and much more…
One thing that has stood out about you is how you can stay calm under pressure. Where and how did you learn how to do that?
Since childhood, I have always tried to take the match to the finish line and then end on a winning note. Sometimes we lost and sometimes we won. I have won many matches for my domestic team. I have learnt a lot from those matches. There were a number of occasions when I got the chance to bat lower down the order and the team needed lots of runs in a few number of balls. I have won those mathes for my team. So, those were the learnings that are helping me here in the IPL.
One half century and then a match-winning unbeaten 19 off 9 balls in the tournament so far. Two great knocks so far in the two games you have played…
I am grateful to the Lucknow family and my captain KL Rahul and Gautam bhaiya (Gautam Gambhir) for giving me a chance in the team's first match. They showed faith in me and I am happy that I delivered.
After LSG pulled off a miraculous win vs CSK, mentor Gautam Gambhir was seen visibly pumped up. What conversation did you have with Gambhir after the win?
I stayed calm before hitting the six (to tie the scores). When I hit that (almost) match-winning six, I was so happy that I had done the job for my team. KL (Rahul ) applauded me. Once I went inside the dressing room Gautam bhaiya came up to me and hugged me and said 'well played, keep going'. Gautam bhaiya loves to win. He was so happy. That coming from a legend like him was a big big thing for me. 9 runs in an over was a huge ask. So, I didn't want to waste time and stayed calm and hit a six. Then things became easy for me. I was happy to take my team across the finishing line. We were close to winning the first game also (vs GT), but we lost. Finding that winning touch is a different feeling altogether.
How big a role has Gautam Gambhir played in your career? How has he helped you?
Gautam bhaiya has played a huge role in my career so far. He has trusted my abilities, showed faith in me, and picked me for the team. Gautam bhaiya picked me in the IPL team. He was there when I attended the Lucknow camp and observed my batting. He liked the way I batted. He gave me a bat and also asked me to play the opening match. I am really thankful to him for giving me an opportunity and backing me. I am happy that I delivered too. I played just 1 match in the Syed Mushtaq Ali tournament and I got out early. KL and Gautam bhaiya observed my batting and the way I was playing shots. They didn't go by the stats. Gautam bhaiya is a legend of the game and has played a lot of cricket so he knows everything about the sport. Big thanks to him for backing me. He is my mentor and like an older brother to me.
What has captain KL Rahul's support been like?
KL Rahul has backed me from the beginning of the tournament. Be it in practice sessions or any training session, he has closely observed me. After the net sessions, he gives me tips on how I can improve, what I lack, what I should do to send the ball over the ropes with ease, how to judge a bowler, and a lot of other things. He is teaching me how to remain injury-free. He likes the way I bat and gives me a lot of confidence. In fact, Andy Flower and Vijay (Dahiya) sir also supported me a lot. When I got the chance in my first match, KL and Gautam bhaiya came to me and gave me pep talks. They said we know tu perform karega (we know you will perform well).
Did someone give you the nickname Baby AB?
I was practicing in the nets and I played a sweep to send the ball over the line. KL Rahul came to me and clapped and said -'wow, superb stuff'. Then he asked me – 'who do you admire'. I said AB de Villiers. He said you just played like him. Since then, KL started calling me AB. Whenever he meets me, in the dressing room, on the field, during practice sessions, he calls me AB. It is very encouraging for me. I have followed AB de Villiers very closely. The way he reads the bowler before he bowls and then picks up the ball to send it to the boundary, it is just amazing. I have watched many of his videos and learned from those. In fact, I have played those shots in domestic tournaments and that's how I excelled.
What has it been like sharing the dressing room with the likes of Manish Pandey, Krunal Pandya, Deepak Hooda?
I have learnt a lot from these senior players. Be it Manish Pandey, Avesh Khan, Krunal Pandya, Deepak Hooda or anyone else, everyone is very supportive. They are always ready to help. The Lucknow team dressing room is extremely lively and entertaining.
Who is the funniest guy in the LSG dressing room?
Evin Lewis. He is very entertaining and keeps the dressing room environment lively.
How would you rate Lucknow Super Giants' title chances?
This is our first IPL season and our goal is to win the title on our maiden outing. We are all on the same page and everyone has one aim – to win this year's IPL title.
You didn't get many chances to play for Delhi over the years, despite impressing a lot of people. What was the reason behind that?
I would say there were a lot of senior players. So, I didn't get a chance. Of course, seniors will get the first preference because of their experience and match winning knocks and spells. I am sure I will get chances for Delhi too.
If you continue to do well in IPL 2022, do you think you will get enough chances to play for Delhi going ahead based on those numbers?
Hopefully. I want to end this IPL on a high. I want to score runs and take my team to many wins. I am sure I will get the chance to play for Delhi going ahead.