Sports
Exclusive: 'MS Dhoni is going out there to fetch us the trophy': Paddy Upton recalls Gary Kirsten's words on the 11th anniversary of India's 2011 World Cup win | Cricket News – Times of India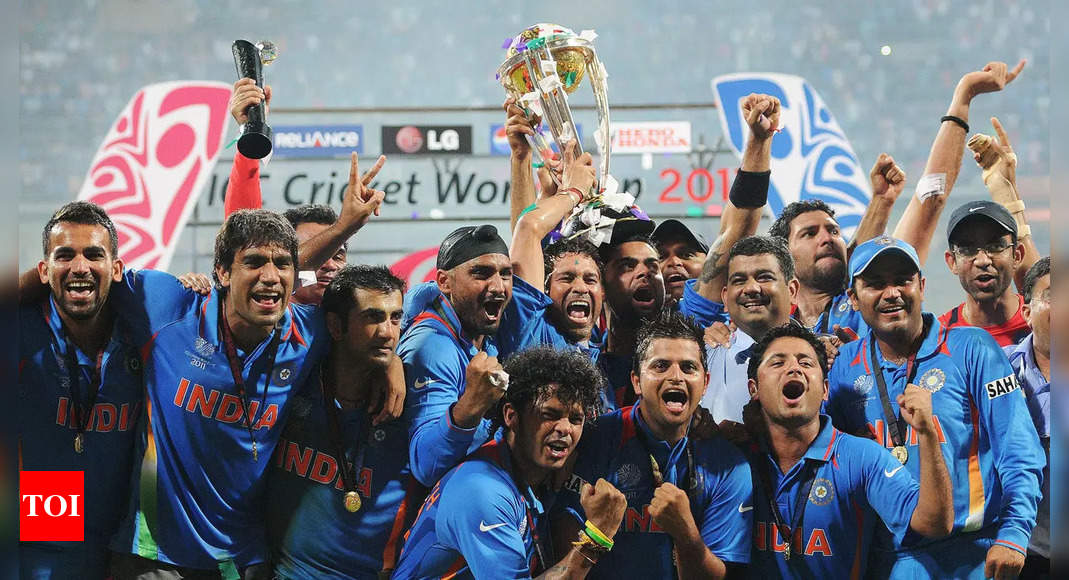 NEW DELHI: It has been 11 years since India clinched their second ICC ODI World Cup title in 2011. Mahendra Singh Dhoni's six over mid-on off Sri Lanka's Nuwan Kulasekara which sealed the deal for the Men in Blue in front of a jam-packed
Wankhede Stadium
in Mumbai ended a 28 year wait for the trophy and gave over a billion Indians something very special to celebrate.
Apart from the title-winning hit by Dhoni, Ravi Shastri's fervent commentary "Dhoni, finishes it off in style, India lifts the World Cup after 28 years" still reverberates in every Indian
cricket
fan's ears.
As Team India celebrates their 11th anniversary of the 2011 World Cup win on April 2, TimesofIndia.com spoke to the then strength and mental conditioning coach of the Dhoni-led team in 2011,
Paddy Upton
to take a walk down memory lane.
Etched in our memories FOREVER! ☺️ ☺️🗓️ #OnThisDay in 2011, #TeamIndia won the ODI World Cup for the second time.… https://t.co/wEPhS9t1Yi

— BCCI (@BCCI) 1648872504000
Upton, who has joined the Rajasthan Royals coaching staff for IPL 2022, in an exclusive interview with TimesofIndia.com talked about that historic April night, working with coach Gary Kirsten, Dhoni changing his batting position and going out to bat ahead of Yuvraj Singh at the last minute, Virat Kohli's transformation, Sachin Tendulkar's role in the title win and much more…
India lifted the World Cup trophy in 2011. You were the strength and mental condition coach of that MS Dhoni-led victorious Indian team. Take us down memory lane and talk to us about that historic day on April 2, 2011…
There are so many memories. My earliest memory starts sort of 10 months out from the World Cup, where we played in the Asia Cup final, interestingly, against Sri Lanka. We were preparing for that in the morning and Gary Kirsten asked me a question, "If this was the World Cup final, are we ready to win? And the answer was, no, I don't think we are ready. And that really sparked off the question and the intense focus went into what we needed to do in the next 10 months to prepare this team (for the World Cup).
So, when we arrived at the Wankhede Stadium in early April to play the final we knew we were ready to win. That (Asia Cup) sort of really kicked off a very intense 10-month focused journey from a skills perspective, to prepare the team from a fitness perspective, to prepare them from a mental side, because at the time, no team had won a World Cup on home soil. And some of the thinking at the time was that the pressure of playing at home was just too big for the host nation. (MS Dhoni and Virat Kohli during the victory lap – TOI Photo)
And we knew if we extrapolated that to playing a final in Mumbai, at the Wankhede Stadium, which is one of the loudest stadiums in the world, just because of the way the stadium is configured, with fans, it was going to be Sachin Tendulkar's last World Cup game that he would ever play. So, we just knew the pressure. So, we had to prepare for a mammoth effort and a mammoth challenge. And we had 10 months to do that. So, it was just an incredibly engaging process every day of asking questions, how do we prepare this team for the World Cup final?
What was the conversation like between you, head coach Gary Kirsten and MS Dhoni ahead of the title clash?
That's a great question. One of the things that from time to time, I would think about it – if we did play the final, as the mental coach, what would my speech be the night before or the morning of the game. And I sort of imagined the great movies where the coach stood up and delivered this incredible speech that just motivated the players to be able to run through a brick wall. And I knew I was going to get the opportunity as the mental coach to deliver that match-inspiring speech.
And I thought a lot about what it would be and what I would say, and the honest answer was, by the time we got to the night before the final, we had the meeting, and I had the opportunity to stand up and deliver that very speech. And I remember delivering it. It was nothing like I had ever anticipated or planned. (Yusuf Pathan lifting Sachin Tendulkar on his shoulders during the victory lap – TOI Photo)
And all I said was something like tomorrow's game is like a Bollywood movie. We have the best actors; we know exactly what our script is. And all that's required now is for us to go out there and play our roles. And we know that will give us the best opportunity of crossing the line ahead of the other guys. It did not require any inspirational motivational speech because we were ready.
What was the dressing room atmosphere like after MS Dhoni sealed the World Cup win with that six at the jam-packed Wankhede stadium?
It's very difficult to actually explain what it was like because it was such an incredible, sensory, experiential overload that I certainly experienced and everyone around me (did too). The elation, the exuberance, the excitement, the ecstasy was nothing like I'd ever experienced before. It was like electricity of happiness and excitement just running through each individual's body. And it was sort of the energy was popping off each other, the guys in the changing room, on the players and the coaches.
#ThisDayThatYear – In 2011, "Dhoni finishes off in style. India lift the World Cup after 28 years"11 Years of ODI… https://t.co/GN8L6hvqbV

— MS Dhoni ❤️ #IPL2022 #TATAIPL2022 (@CricCrazySubs) 1648837779000
And it was probably just those three (or so) minutes (after the match winning six) was the most electrifying, exciting experience I've ever had in my life. I couldn't even begin to describe it. And fortunately, there were, maybe half a billion Indians watching the same game who know exactly what I'm talking about, because they would have experienced that same incredible elation, excitement, thrill, ecstasy.
I've often said that if I could bottle that experience and sell it to anybody, I could be the richest person in the world because there's no feeling as incredible as was experienced in the moments after that cricket ball went flying over long-on.
Virat Kohli has come a long way since the 2011 World Cup win. How would you describe his transformation?
Virat (Kohli) was highly, highly talented. He was doing everything that took to be able to be the best cricketer he could be but possibly hadn't at that point really doubled down, being a consummate professional when it came to his training and his diet. He was professional. He recognised for himself that there was an area where he felt he could take part of his professionalism up to the next level. And he largely made the decision and came to the realisation himself. The results were there for everyone to see. He doubled down on his training, he doubled down on this diet, he got meticulous and achieved the gold standard of professionalism in the areas of diet, training, eating, preparing physically, over and above his skill and preparation. He was a great (role) model not just to cricketers, but I think to people around the world. He also got to the number one two or three position in the world, in the batting rankings in all three formats of the game and for the next 10 years stayed there.
April 2nd 2011, that World Cup winning six from Dhoni is etched in every Indian cricket fan's memory. On its 11th y… https://t.co/aTnCCca8nu

— Royal Challengers Bangalore (@RCBTweets) 1648871987000
So, he is a great example of an exceptionally good international cricketer who just doubled down and sort of adopted the international gold standard when it came to professionalism in all areas of his game. Not just in batting. That's paid dividends and paid dividends for a long time. He is still that super fit, highly professional individual.
But not everybody lives forever, not everybody stays at the number one batting slot forever and not everyone stays as captain of the team forever. So, it was an incredible journey and Virat is still right at the top of his game and I'm quite sure that we will see a hell of a lot more from him. He is certainly not done.
How impactful was Sachin Tendulkar's presence in the team for the Indian team in the 2011 World Cup?
The World Cup title was probably the only trophy that he (Sachin Tendulkar) didn't have in his cabinet at the time, and we all knew it would be his last World Cup. So, many of the players, out of their own decision, decided to dedicate their World Cup campaign to doing their best to deliver their trophy not only to the team, but as a thank you to Sachin.
Sachin has played even more of a role than just the valuable runs that he scored, his presence on the field, the catches he took, he served as an inspiration for many players. And one of the things we did at the beginning of that tournament is we asked each player to find a reason or cause greater than themselves to play for. And it was completely an individual choice. And some of the players decided to dedicate their efforts to say thank you to Sachin.
MS Dhoni's knock and the title-winning six is always discussed, but the 97 run game-changing innings by Gautam Gambhir somehow gets forgotten…
In life, in order to reach great heights, you need to have a solid foundation. That's underground. You don't see the foundations, but they're the backbone of a tall building that needs a strong foundation. In order for a tree to reach great heights, it needs to have roots that are invisible, giving it stability underneath.
Man for the finals – Gautam Gambhir!!!!!75(54) in the 2007 T20 World Cup Final and 97(122) in the 2011 ODI World C… https://t.co/8rdZ2gryss

— Johns. (@CricCrazyJohns) 1648876827000
As human beings, the depth and the strength of our character allow us to grow to great heights and yet we don't see those and, in a way, Gambhir for years had been the roots of the foundation or the backbone of that Indian batting lineup. He was the person who didn't get that many Man of the Match awards. He wasn't a spectacular player. His batting partner was Sehwag, who was so exciting and amazing to watch and an explosive batsman, on the other hand, and you had Gambhir.
Gary Kirsten named Gambhir 'the rock' and his name in the team was 'the rock'. Because he was the stability, the backbone of that Indian batting lineup. He allowed Sehwag to play that amazing game that he played. He allowed Sachin to come in and express himself. He allowed Yuvraj with that beautiful swing of his to come in and just be so destructive the way he did. And he set up (things) for Dhoni to be able to come in and finish things off.
So, many times the rock, the foundation, and the roots of that batting performance were provided by Gambhir 'the rock'. No greater example than that 97 that he scored in that World Cup final. It is not spoken about much, because it wasn't as spectacular as Dhoni's 93 (91 not out). He wasn't the guy who hit that six over long-on.
In the final, MS Dhoni went out to bat ahead of Yuvraj Singh. It was a decision that surprised many at that time but turned out to be a masterstroke…
Dhoni going up ahead of Yuvraj. Obviously, at that time Yuvraj was in such amazing form. Even if he scored naught and got no wickets in the final, it was him obviously who was going to get the Man of the Series. He was in such good form. So, it was a very brave decision for Dhoni to go ahead of him in a final because Dhoni's high score at the time was 35 or 36. He had made no contribution or notable contribution throughout the World Cup (till then). But those really big moments, it's widely known and has been proven before and subsequent to that over and over again, the man for the really big moment with a real big match temperament in that team, taking the team home, particularly in chasing is MS Dhoni. That's what he specialised in his whole career. (Yuvraj Singh was named 'Player of the Tournament' for his consistent all-round show – Getty Images)
And that was that one big moment where he took it upon his shoulders to say that I haven't done it in this World Cup so far, I am still a man to do that job. So, huge credit, kudos to Dhoni for taking that brave decision, as great leaders do in those key moments. And it was really just a very brief conversation between him and coach Gary Kirsten to recognise that this big moment is the moment for Dhoni.
I remember when Dhoni walked down to bat we were still a long way out from the total, from winning the title. I remember turning to Gary who said – 'MS is going out there to fetch us the trophy'. Such was Gary's confidence in MS Dhoni's ability.
If you talk about Sehwag and Sachin the two first wickets that fell in the final. There was a part of everybody that knew if Sehwag batted for 15 overs, the game would have been gone, and Sri Lanka would have been dead. He's just so incredibly destructive. So, when he got out, it just meant there's a whole lot of other players who are going to have to do a whole lot more work because Sehwag could get that work done so explosively and so quickly.
So, it just meant the pressure is still on and then of course when Sachin got out, in front of his home crowd, he was the only Sachin Tendulkar. Who wants Sachin to get out? Every one of us wants to watch Sachin bat. So, it was always a bit of a disappointment when Sachin got out. But we had 11 players who were prepared to do the job.
You have worked closely with Rahul Dravid who is now the head coach of the Indian cricket team. Virat Kohli meanwhile has passed the captaincy baton over to Rohit Sharma. What is your take on the new look Indian cricket team under new coach Dravid and new captain Rohit?
I've been very lucky to share the dressing room with Rahul when he was a player and I was working for the team. I've been very lucky. I was part of five IPL seasons working alongside Rahul.
Dravid is someone I've got the highest regard for. I'm not surprised he's the Indian coach. His cricket brain is incredible. He is incredible as a person. So, India (have) got a great leader in Rahul Dravid, in so many ways. Not only in a cricketing way, but as a leader of men. Rohit is a good captain. It's a new leadership team in the Indian setup. I can only wish them the best of luck. There are two very competent leaders running that team. I haven't worked with Rohit, so I don't really don't want to comment on that.