Sports
IPL 2022: The Cummins no one saw coming | Cricket News – Times of India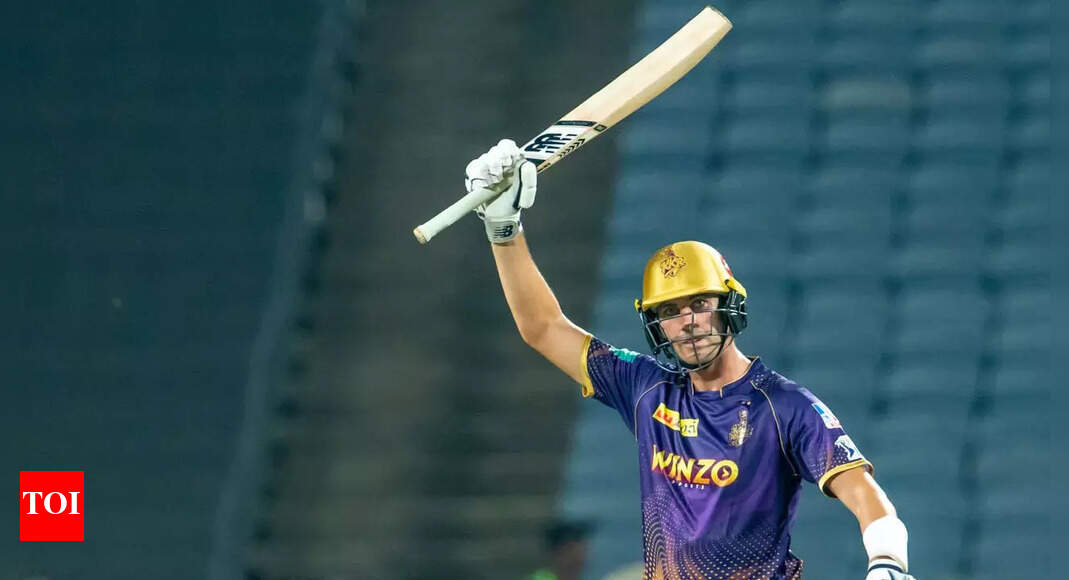 First up, if you haven't seen
Pat Cummins
's whirlwind knock against
Mumbai Indians
that kicked up a storm at the MCA Stadium in Pune yet, please go and watch every second of it. It won't take you too long – after all it was just 15 balls. And yet the impact that it made is something that will not be forgotten in a hurry.
As far as records go – the history books will show that the Australian Test captain (who will be seen in a new light altogether by bowlers across the world now) equalled the previous record of the fastest fifty in
IPL
history, off 14 balls. KL Rahul smashed that in the 2018 edition for Punjab. That too was a brilliant knock, played by one of the best batsmen India has produced in recent years. After all there is a reason why innings like these are almost always tagged freak knocks. What the history books will not be able to tell you though is the overall impact that they made on not just those matches but on the tournament overall.
Fastest Fifties in IPL
| | | |
| --- | --- | --- |
| PLAYER | BALLS | AGAINST |
| KL Rahul (KXIP) | 14 | DC (2018) |
| Pat Cummins (KKR) | 14 | MI (2022) |
| Yusuf Pathan (KKR) | 15 | SRH (2014) |
| Sunil Narine (KKR) | 15 | RCB (2017) |
| Suresh Raina (CSK) | 16 | KXIP (2014) |
First the similarities – In the 2018 match between Punjab and Delhi Capitals, DC batted first and scored 166-7. Gautam Gambhir top scored for his old team, with a 42 ball 55, before being run out. Punjab were chasing a target of 167 and Rahul scored a 16 ball 51, with six fours and four sixes, before falling to Trent Boult.
On Wednesday night, KKR were chasing 162 to win against Mumbai and Pat Cummins scored a 15 ball 56*, with four fours and six sixes.
And now consider the differences – In the 2018 game, Rahul opened the innings. Scoreboard pressure was the same as in any run chase of a 160 odd target. At the other end his opening partner was Mayank Agarwal (who fell for 7 to Chris Morris) and he had the likes of Yuvraj Singh, Karun Nair, David Miller and Marcus Stoinis coming in after that. Rahul is also a specialist batsman.
On Wednesday, Cummins, a specialist fast bowler, walked out to bat at number 7 for KKR, at a time when the Knights found themselves at 101-5, still needing 61 runs off 41 balls. The equation wasn't a very difficult one by T20 standards, but the problem was that KKR were 5 down and the man the team usually looks to to bail them out of situations like these – Andre Russell – was already back in the hut for a 5 ball 11.
Venkatesh Iyer was still there. He didn't have the most fluent of nights with the bat, but played a very gutsy and important knock. And in many ways the fashion in which Cummins went after the Mumbai bowlers was a strategy to take pressure off of Iyer. What no one really expected was for Cummins to finish the match, the opposition and the contest the way he did. In 2018 Rahul's knock was stunning but not really surprising. On Wednesday Cummins left everyone rubbing their eyes in utter disbelief. As it turns out he surprised himself as well. But he was too busy making a mockery of a run chase, which looked extremely tricky when he walked out to bat, to stop and relish the enormity of what he had accomplished or marvel at the exceptionally clean shots that he almost magically pulled out of his arsenal.
Cummins had two IPL fifties before this, so a few sixes off his bat wouldn't have been surprising at all. But the blitzkrieg that he produced, with the match hanging in the balance and against a quality opposition in whirlwind style, with almost every shot off his bat producing a boundary is something no one could have predicted. As Cummins said he himself, he himself perhaps was the most surprised.
So coming in at number 7, playing his first IPL match of the season, going for the big shots from the word go, taking on quality fast bowlers like Jasprit Bumrah, Daniel Sams and Tymal Mills, equalling the record for the fastest fifty in the history of the tournament and finishing things off with as many as four overs to spare – all while putting on an absolute exhibition of mind boggling clean hitting. The secret might just have been his mindset. As Cummins himself said after the match, he is at his best with the bat when he is not overthinking. The plan was simple – go for anything that was in his arc, target the shorter boundaries and don't hold back.
The 28 year old from Westmead, Sydney was caught out at the boundary (thanks to a superb catch by Suryakumar Yadav) when he was on 44, but it was a no ball for height by Sams and by then the equation had already boiled down to 13 needed off 26.
KKR needed 35 off the last 30 balls. Cummins though was in a real hurry and scored those runs off the next 6 balls (The 16th over bowled by Sams went for 35 runs). (Photo: ANI/BCCI/IPL)
KKR had released Cummins ahead of the last player auction and then bought him back for Rs 7.25 Crore. For the KKR team management there must have been a quick flashback to that bidding process when the two time champions secured the services of a cricketer who is very clearly in his prime right now. It must have felt good. Shah Rukh Khan for one was understandably overjoyed, though he wasn't physically present at the match. CEO and Managing Director of KKR, Venky Mysore had an almost stunned expression on his face, before he allowed himself to smile. He was there at the auction table when Cummins was bought back. On the field it looked like someone had let Andre Russell loose on a dance floor.
Wow again!!! @KKRiders boys!! https://t.co/ctt0ZQ7vVC

— Shah Rukh Khan (@iamsrk) 1649266801000
@patcummins30 Thank you so much for making him so happy 😍👑.Here's the Dance of RUSSELL and hug from team what SRK… https://t.co/HMXVOUD5Ov

— MASRUR SRKian (@Masrur2srk_) 1649301879000
The knock Cummins played didn't just help KKR win the match and climb to the top of the points table. It sent out the message that T20 cricket is in the habit of sending every now and then – no situation is impossible, no target too big. This knock in many ways will have ripple effects across the league. The videos of Cummins hitting the ball at a strike rate of over 373 will be watched over and over again by batters, bowlers and coaches. This after all was not an onslaught against club level bowlers – it was a knock that was played against bowlers of a team which has won the IPL title five times. The pitch and the stadium conditions will be logged for all eternity. The Pune stadium will be remembered as the ground where Cummins smashed a 16 ball 56* and won his team the match with 24 balls to spare. The lengths bowled by all the bowlers to Cummins will be scrutinised. Battle plans and strategies against KKR in the future will include exhaustive plans on where to bowl to Pat Cummins. Other bowlers who fancy their chances with the bat will get the confidence to go out and express themselves freely and without fear or a cluttered brain.
And of course Mumbai will have to figure out a way to claw their way out of the hole they have dug for themselves with three straight losses. They might be slow starters, but the Mumbai Indians know how to shut out matches. On Wednesday night it was goodnight and goodbye before Rohit Sharma and his men could even digest what was happening. The MI and Team India captain admitted as much in the post match chat. MI knew there was only Sunil Narine to come. They knew they needed perhaps just one more quick wicket to seal the deal, but they ran into a clear-minded Aussie with dimples on his cheeks the size of craters and a bat which he wielded like a sword straight out of a legendary folktale. (A dejected Rohit Sharma leads his team off the park after the defeat – Photo: BCCI/IPL)
🗣️ Mahela puts it straight as it is.#OneFamily #DilKholKe #MumbaiIndians @MahelaJay https://t.co/QkYuJnZZNh

— Mumbai Indians (@mipaltan) 1649271527000
Pat Cummins the very potent Test bowler, Australian spearhead, Test captain, effective T20 bowler on many occasions, even a good striker of the ball (though his highest score in a T20I is 13*) – this was the Cummins the world knew about.
No one saw Cummins, the batsman who was on full display on Wednesday night, coming. (Cummins received the Man-of-the-Match award for his all-round show – Photo: KKR Twitter) (Pat Cummins with KKR's other top performer of the day, Venkatesh Iyer – Photo: KKR Twitter)
There are many who feel Cummins could very easily play the role of Superman. After all he has the height, the build and the looks for it, but cricket is his calling. What he did on Wednesday night in Pune though can safely be called a Superman effort – and that too without a costume change.